Veelgestelde vragen
How should I come in to get My Dry Curl Cut?
---
You should come in with your curls in their natural state. Use your normal product and make sure your hair is tangle free, so we can evaluate your hair and give the best Dry Curl cut as possible. U kunt met uw krullen komen in natuurlijke staat. Gebruik uw normale product en zorg ervoor dat uw haar vrij is van klitten, zodat we uw haar kunnen evalueren en de best mogelijke Dry Curl Cut kunnen geven.
---
Short, Middel or Long haar?
---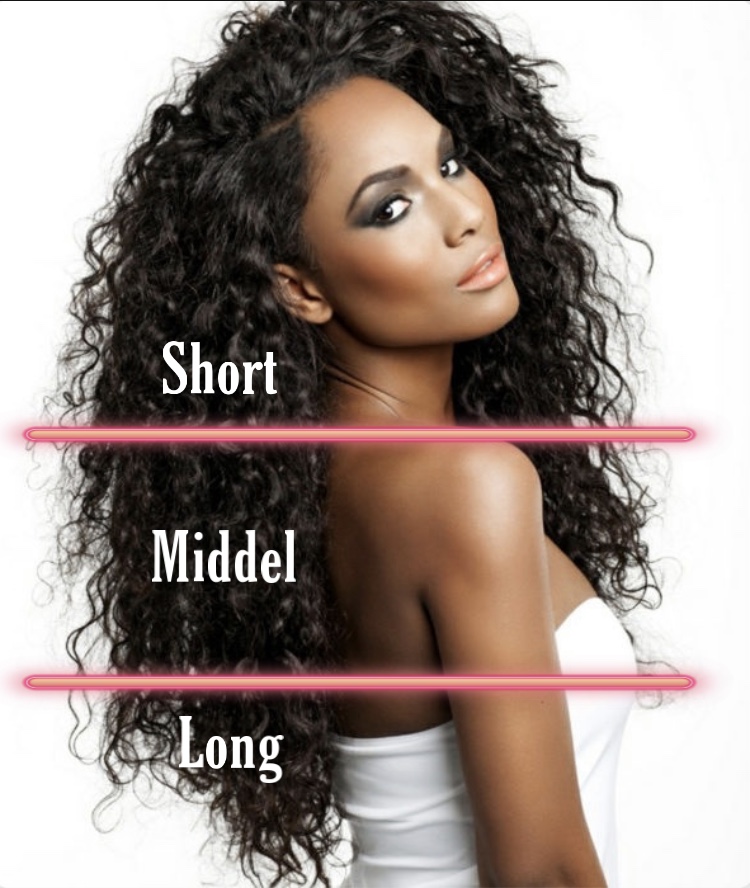 Short = above the shoulders Middel = Hair that falls between the shoulders and the shoulder blades Long = Hair that is longer than the shoulder blades Short =Kort haar dat boven de schouders valt. Middel = Haar dat tussen de schouders en de schouderbladen in valt Long=Lang haar dat langer is dan de schouderbladen
---
What is a treatment?
---
Dit is een haarbehandeling u kunt uitleg vinden over onze verschillende behandelingen op onze treatment pagina. This is a hairtreatment u can find all our treatments ad our treatment page.
---
Do u use your CG products
---
Yes we only work wih CG products Ja, wij gebruiken uitsluitend producten die volgend de Curly Girl Methode zijn goedgekeurd
---
What is a traveling hairstylist
---
This is the hairdresser just like in the salon only she now comes to your house for your convenience. To book the ad home service contact us. Dit is de kapster net zoals in de salon alleen komt ze nu voor uw gemak naar uw huis toe. Stuur een berichtje om deze service te boeken
---
How much more do I pay for the hairdresser to come to my house?
---
For the Netherlands - Startpoint Amsterdam (holendrecht) To start there is 10,00 call-out charges, 0,40 for each km if there no parking costs. If there is paid parking, these extra costs will be charged to the customer. So in total you pay the call-out charges & travel costs parking costs and the selected treatments Voor Nederland - Startlocatie Amsterdam (holendrecht) De voorrijkosten zijn 10,00 en 0,40 per kilometer indien er geen parkeerkosten zijn. Indien er betaald parkeren is zullen deze extra kosten doorberekend worden aan de klant. Dus in totaal betaald u voorrijkosten, reiskosten parkeerkosten en de gekozen behandelingen.
---
What Is The Cancellation Policy?
---
Your appointments are very important to us, it is reserved especially for you, we understand that sometimes schedules adjustments are necessary; therefore, we respectfully request at least 48 hours notice for cancellations and/or rescheduled appointments. Please understand that when you forget, cancel your appointment or reschedule without giving enough notice, we miss the opportunity to fill that appointment time, and clients on our waiting list miss the opportunity to receive services. When your appointment is booked you will get an automatic email and text confirmation. Since the services are reserved for you personally, a Cancellation fee will apply when cancelled or rescheduled on the same day of your scheduled appointment. Uw afspraken zijn erg belangrijk voor ons, het is speciaal voor u gereserveerd, we begrijpen dat soms planningsaanpassingen nodig zijn; daarom vragen we respectvol indien nodig ten minste 48 uur van tevoren te annuleringen en / of een nieuwe afspraak in te plannen.
Begrijp alsjeblieft dat wanneer u uw afspraak vergeet, uw afspraak annuleert of verzet zonder voldoende kennisgeving te geven, we de kans missen om die afspraaktijd weer in te vullen, en klanten op onze wachtlijst de kans missen om onze diensten te ontvangen. Wanneer uw afspraak is geboekt, ontvangt u een automatische e-mail en sms-bevestiging. Aangezien de services voor u persoonlijk zijn gereserveerd, zijn annuleringskosten van toepassing bij annulering of herschikking op dezelfde dag van uw geplande afspraak.
---
I don't know what treatment to book!
---
If its your first time we advice u to book a FULL TREATMENT! U full treatment includes: *A dry crul cut *Washing *Hair analysation *A hairtreatment this could be a vitamin/moisture/protein or a combination treatment. *Product advice *Applying of the hairproducts *Blow-dried with a diffuser Als het uw eerste keer is adviseren we u om een FULL TREATMENT te boeken! een full treatment is inclusief: *Een dry curl cut *wassen *Haar analyse *Een haarbehandeling dit kan een vitamine/moisture/protiene of een combinatie treatment zijn. *Product advies *Aanbrengen van haarproducten *Drogen met een diffuser
---
Deposit / aanbetaling
---
A deposit of € 20 must be made, the link for this payment will be sent in the in the week before your appointment. If you have not received a payment request, please contact PreciousCurls (06) 14 70 41 54. Your appointment is within 14 days! Then you must pay the down payment immediately. Please note: if the down payment has been paid under a different name, please let us know. Your appointment will be automatically canceled if your payment is not received on time. if your appointment is in week 12 you will recieve your payment request the sunday of week 10. Er dient een aanbetaling gedaan te worden van €20,- de link voor deze betaling krijgt u in de week voor uw afspraak. Geen betaalverzoek ontvangen neem dan contact op met PreciousCurls (06) 14 70 41 54 Is uw afspraak binnen 14 dagen! Dan dient u de aanbetaling direct te voldoen. Let op: is de aanbetaling gedaan betaald onder een andere naam geef dit dan even door. Uw afspraak zal automatisch geannuleerd worden indien uw betaling niet op tijd binnen is. Als uw afspraak is in week 12 ontvangt u een betaalverzoek op zondag van week 10
---
---